This is a sponsored post brought to you by Mint. All opinions are my own
The task of teaching kids oral hygiene is one of the most important lessons. Helping them to create good habits helps them create healthy teeth.
Teaching kids oral hygiene is a big important task from the time that they are born into the world. Some of us, though, can get a little lost when trying to figure out how to achieve this.
The most important thing is to be sure to start early. As soon as you see their first tooth trying to sprout through, it's time to start developing good oral hygiene habits. When they're first getting teeth, all you need to do is rub a damp cloth across their teeth and gums to prevent that nasty plaque from sticking around. As they get older, you can start using toothbrushes and establish a good routine.
Tips to help with teaching kids oral hygiene
Make it fun for them: Kids are more likely to get excited about teeth brushing if you let them be in control and have fun. Let them pick out a cool toothbrush (or two), a cool colored cup that is used for rinsing only in the bathroom, and even cool flavored floss. They will love having choices and seeing all the cool colors, flavors, and characters!
Bonus tip: come up with activities to help aid in teaching kids how to brush teeth. I will have a few linked up at the bottom of this post. The more fun you can make the process, the better!
Show them proper technique: Most kids learn by example, so do it with them! Make it a family routine to brush twice a day: once in the morning and evening. Be sure to show them how to brush properly, too. As they get older, it's also important to learn good flossing for the hard to reach areas.
Get help from your dentist: It's very important to get help from your local dentist. By age 2 or 3, your child should be seeing the dentist regularly for checkups. You can also take them in before the routine checkup to get them used to the office, in an effort to make them more comfortable. At the checkups, your dentist will explain to them how to properly keep their teeth clean. Going in for checkups is very important to make sure they're keeping their teeth healthy!
Get Visual: Using visual tools is an excellent way to help kids track their oral health progress. This can be using something as simple as a brushing chart or something as fun as Mint's Breathometer. This last week we have been using Mint in our home and the kids have had a blast using this simple tool to check how well they have cleaned their teeth and monitor their overall oral health.
Activities to teach kids to brush their teeth
Teach Children to Floss Teeth with Play Dough!
Dental Hygiene Tips and Tricks
Toothpaste Slime
Dental Health Month Sensory Play
Dental Healthy
Dentist Play Dough Pretend Play
Dentist Printable Packs
FREE Teeth Development Nomenclature Cards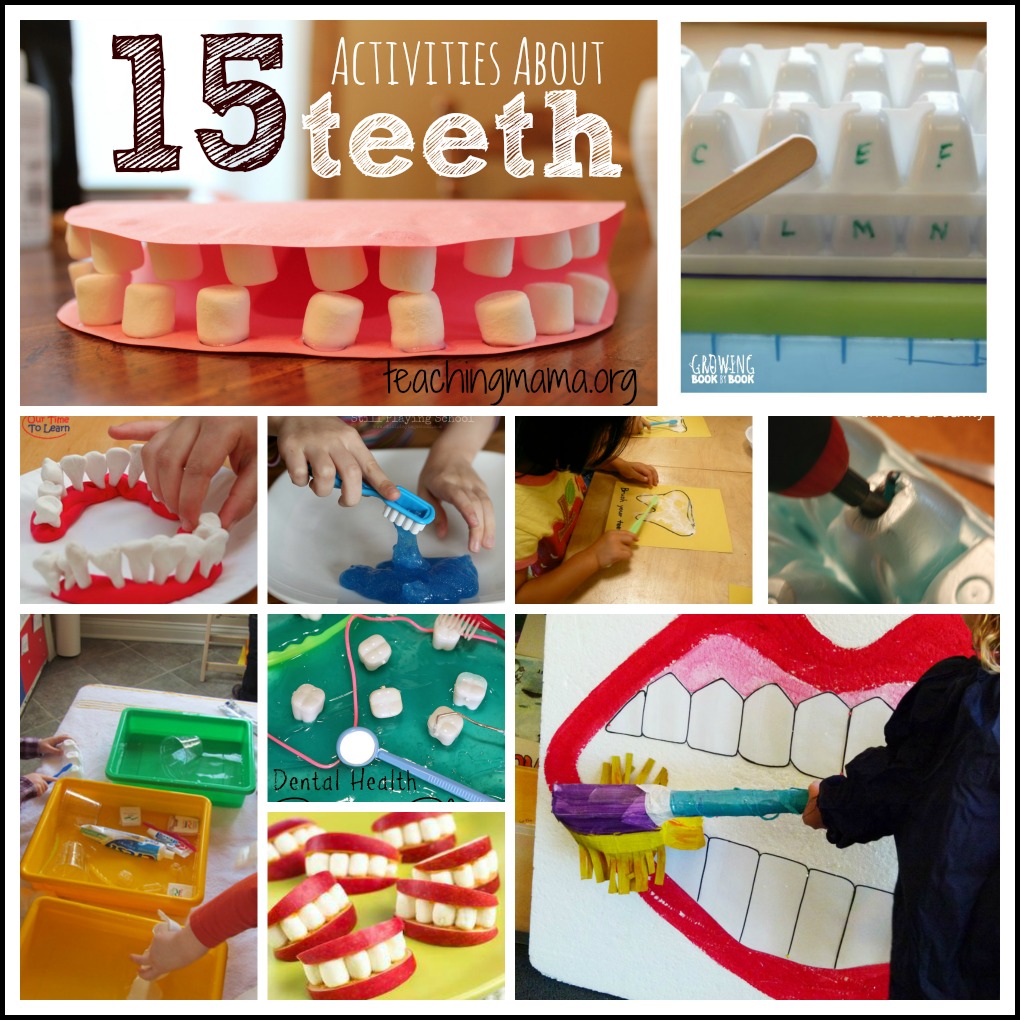 15 Activities About Teeth
Free Dental Coloring Pages for Kids
Dental Health
Brush Your Teeth! Preschool Craft
&
Share This!